Pet Carrier - Sherpa Delta
Sherpa's latest, sporty design has been customized to insure compliance with Delta Airlines flight requirements as well as those of other airlines.
A quality carrier, the Sherpa Delta bag will provide the utmost of security for your pet and last you a lifetime with proper care.
Features
Comfortable arm strap.
Plenty of ventilation so that your pet travels comfortably and securely.
Airline-approved for in-cabin travel
This pet carrier will qualify for the Sherpa Guaranteed On Board Program. For pet travelers flying on American, Continental, Delta, AirTran, Southwest, and Northwest Airines, this is a great program that will guarantee that your pet will be able to board the cabin of the aircraft as long as your Sherpa pet carrier is the appropriate size for your pet. Even if your pet is not traveling on any of the airlines previously mentioned, this pet carrier is airline compliant and should fit under the seat in front of you. As it is a flexible carrier, it affords the possibility of fitting in a space that is less than the 10.5" height of the carrier.
See chart below for measuring your pet.
Carrier Weight: 3 lbs 10.5 oz (1.6 kg)
Carrier Measurement LxWxH: 18 x 11 x 10.5 in (46 x 28 x 27 cm)
Pet Size: Up to 16" (41 cm) long (A) and 10" (25 cm) high (B) - about 16 lbs (7.3 kg)
Price: $59.95 Sale $54.95
MEASURING YOUR PET FOR A CARRIER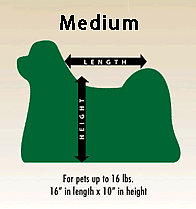 Be sure to order the correct size pet carrier. Measure your pet from the tip of the nose to the base of the tail and from the top of the head to the ground. Airlines require that dogs and cats must be able to stand up and turn around in the pet carrier. If you have any questions, please contact us toll free at 877-241-0184 or email us at custsvc@pettravelstore.com prior to placing your order.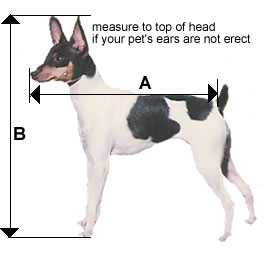 Return/Exchange Policy For Sherpa Pet Carriers
Due to State Health Laws, we will not accept the return of any Sherpa bag after a pet has been inside the bag – No exceptions. If your pet has not been inside the carrier, it may be returned for exchange as a sale item.
Click here for current airline pet policies. We would also suggest that you consider protecting your carrier with a quality pet pad - click here.