DEEP DISCOUNTS FOR VETS, BREEDERS, RESCUE ORGANIZATIONS, SHELTERS & GOVERNMENTS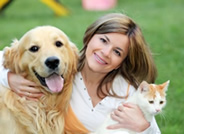 Pay up to 74% less than retail – beat other "bulk discounts " online.
Make microchips more affordable for your clients.
Easily cover your cost of service
Datamars microchips are ISO 11784/11785 compliant and offer superior pet tracking that works everywhere – US, Canada & Overseas.
Registered and non-registered chips available.
Savings increase as quantities increase.
Microchips are required for pet travel to many international countries.
Order at your convenience 24/7.
Fast delivery - same day shipping if ordered before 3:00 PM EST
Many US veterinarians still use microchips that conform only to US standards. Datamars microchips use the latest technology in pet identification. By meeting international standards for pet transport overseas, you can give your clients the best pet tracking not only at home but around the world.
Only veterinarians, breeders, rescue organizations, shelters, and those businesses serving the pet industry qualify for these discounts.
Sign up for your FREE account now. If you do not hear from us within 24 hours, email us at info@pettravel.com.
Already have an account? Sign in here.
Not yet registered? Click Here to create your FREE account for exclusive low prices! We will respond within 24 hours.