Pet Carrier - Sherpa American Airlines
The Sherpa Pet Trading Company was the first company to design an approved pet carrier that strictly adhered to airline standards for in cabin travel. They continue to produce some of the highest quality products in the industry.
Benefits
Ventilation on three sides of this carrier
Entry from generously-sized top or side zippered entries.
Comes with a full shoulder strap
Inside bottom has a removable and washable sheepskin liner that serves as your pet's bed away from home.
Zippered side pocket for your pet's toys and treats.
Airline Compliant for In Cabin Travel
This pet carrier is backed by the Sherpa Guaranteed On Board Program. For pet travelers flying on American, Continental, Delta, AirTran, Southwest, United, Alaska Airlines and Northwest Airlines, this great program will guarantee that your pet will be able to board the cabin of the aircraft as long as your Sherpa carrier is the appropriate size for your pet. Even if your pet is not traveling on any of the airlines previously mentioned, this pet carrier is airline compliant and should fit under the seat in front of you. As it is a flexible carrier, it affords the possibility of fitting in a space that is less than the 10.5" height of the carrier.
Is This Carrier the Right Size for your Pet?
For your pet's comfort, and to meet airline requirements, your pet should be able to stand up and turn around in their pet carrier.
MEASURING YOUR PET FOR A CARRIER
Measure your pet from the tip of the nose to the base (not tip) of the tail (A) and from the top of the head or ears to the ground (B). If you have any questions, please contact us toll free at 877-241-0184 or email us at custsvc@pettravelstore.com prior to placing your order.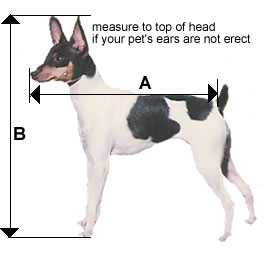 Carrier Size: Medium
Carrier Weight: 3 lbs 14 oz. (1.76 kg)
Carrier Measurement (LxWxH): 17 x 11 x 10.5 in (43.2 x 28 x 26.7 cm)
Pet Size: Up to 16" (40.6 cm) long (A) and 10" (25.4 cm) high (B)
Price: $69.95 - Sale $59.95 ($10.00 off)
Recommendations for Pets that Get Nervous or Excited During Travel
If your pet gets nervous or excited when traveling, we have several recommendations for you:
For pets who can experience an accident in their carrier because they are nervous, elderly or ill, we recommend our smallest size pet pads which will fit perfectly into Sherpa carriers (petite size). These pet carrier pads will keep your pet dry and comfortable during travel.
If you have any questions, please contact us toll free at 877-241-0184 or email us at custsvc@pettravelstore.com prior to placing your order.
Return/Exchange Policy For Pet Carriers
Due to State Health Laws, we will not accept the return of any carrier after a pet has been inside the bag – No exceptions. If your pet has not been inside the carrier, it may be returned for exchange as a sale item as long as it returned as received.
Click here to see more airline compliant pet carriers.
You can click here for current information airline pet policies.