Sherpa on Wheels Pet Carrier for Dogs and Cats
FREE SHIPPING on all US and APO orders!
Features:
Made of durable quilted nylon with vinyl trim.
The sides provide ventilation for your pet as well as privacy panels.
Zippered entry from the top and side.
Comes with handle straps and a sturdy, adjustable pull strap that also serves as a shoulder strap.
The inside bottom has a removable and washable sheepskin liner.
Zipper side pocket for storing toys and treats.
Rolls flat and does not allow tilting to provide a safe and comfortable experience for your pet.
Available in black and in one size only. Please measure your pet prior to ordering as it is important that your carrier allows your pet to stand up and turn around. See how to measure your pet below. Note that the carrier can compress which will reduce the height measurement.
Carrier Size: Large
Carrier Weight: 6.83 lbs. (3.1 kg)
Carrier Measurement (LxWxH): 20 x 11.75 x 11.50 in (50.8 x 30 x 29 cm)
Pet Size: Up to 18" (45.7 cm) long (A) and 11" (28 cm) (B) high
Pet Weight: About 22 lbs (10 kg)
Carrier Price: $127.95 - Sale $89.95
For your pet's comfort and safety and to conform to commercial airline regulations if flying, your pet should be able to stand up and turn around in its carrier. Measure your pet using the chart below.

MEASURING YOUR PET FOR A CARRIER

Be sure to order the correct size pet carrier. Measure your pet from the tip of the nose to the base of the tail and from the top of the head to the ground. Airlines require that dogs and cats must be able to stand up and turn around in the pet carrier. If you have any questions, please contact us toll free at 877-241-0184 or email us at custsvc@pettravelstore.com prior to placing your order.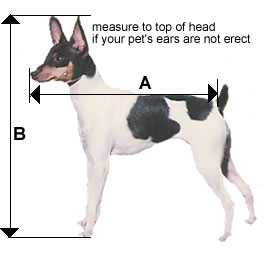 Return/Exchange Policy For Sherpa Pet Carriers
Due to State Health Laws, we will not accept the return of any Sherpa bag after a pet has been inside the bag – No exceptions.
If your pet has not been inside the carrier, it may be returned for exchange or refund as long as the product and packaging is returned in saleable condition.
What else you will need?
We would also suggest that you consider protecting your carrier with a quality pet pad. Our smallest size pet pads fit our pet carriers and provide protection against accidents from nervous pets.
You can find current information for airline pet policies by clicking here.
You can find other great airline and auto compliant pet carriers by clicking here.
FREE SHIPPING on all US and APO orders!