Pet Carrier - SturdiBag Cinammon Leather Print
Limited time only - Save $16.50 and get a

FREE set of

Breathable Pet Pads (2 pads per set) with the purchase of your StudiBag pet carrier!
The SturdiBag carrier is one of the best choices for airline in-cabin travel for those pet owners with dogs or cats that range up to 16" long (tip of nose to base of tail) and 11" high (top of head to ground). This pet carrier is weather proof, has a well-secured washable pillow, toy storage pocket and a padded shoulder pad. It is roomy for your pet, light for you to carry, and can handle up to 30 pounds of weight.
All SturdiBag carriers are made with only the best materials in order to provide for your pet's safety and privacy. With proper care, this carrier will last a lifetime.

Here is how it works - The carrier has flexible fiberglass ribbing (the kind used in camping tents) that allows the carrier to "squish" down enough for you to get it far enough under the seat during takeoff and landing so that the stewardess will leave you alone. Then, during the flight, just pull it out and it pops up like a little tent, to give your pet extra room. Conforms to the rules for carry on baggage.

This is a wonderful carrier, resembling a miniature camping tent. While it is truly sturdy as the name implies, it is also lightweight - a real plus when traveling, showing, or even taking a cat or dog to the vet. It is easy to maneuver around the confines of the passenger cabin. With either the shoulder strap or the handle, the occupied carrier can be easely lifted to avoid bumping passengers.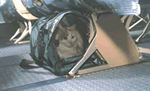 The zippers are easy to close with one hand. Two mesh windows on top of the carrier and on the two end panels offer plenty of ventilation. When closed, the carrier is pretty much weatherproof. The zippered floor panel contains a durable foam-core floor that can be removed and replaced; it can also hold a heat or ice pack if necessary. That same compartment is roomy enough to store show curtains or a towel or two, and a small end pocket would be nice for treats, or a small bit of food or some paper towels.

This best pet carrier has won multiple Choice Awards with both Cat Fancy and Dog Fancy magazines as well as recommendations from Schools of Veterinary Medicine. It is widely used by pet breeders and those in the show industry who travel with their pets often. You will not be disappointed with the quality of this carrier. As it is a flexible carrier, it affords the possibility of fitting in a space that is less than the 12" height of the pet carrier.
Available in large size only.
Here are some of the great features of this pet carrier:
Flexible interior ribbing

Tear-proof and water resistant material

Feather light construction

Adjustable 4-point padded shoulder strap & leather hand grip

Retractable privacy flaps on all mesh windows

Seat belt safety straps

Machine washable interior fleece pad secured by Velcro

More information about this pet carrier
Oftentimes the airlines will give you recommended sizes for in-cabin pet carriers. Remember that the measurements they provide are for rigid carriers that do not compress. They do not provide measurements for soft sided pet carriers although they are accepted.
| | | | |
| --- | --- | --- | --- |
| LARGE | 2 lbs 10 oz | 18"L x 12"H x 12"W | $93.45 |
We would also suggest that you consider protecting your carrier with a quality pet pad. Our smallest size pet pads fit our pet carriers and provide protection against accidents from nervous pets.