Pet Crates

Keep your pet safe and comfortable whether traveling by air, ship or car in a pet travel crate. These IATA compliant cat and dog crates have been used by thousands of our customers for their pets to travel safely all over the world. The last thing you want is for your pet to escape its crate. Buy a quality, well built crate for your pet! Included with the crates for dogs and cats are water/food bowls and live animal stickers.
Before ordering a crate, we recommend the following:
1. Measure your pet accurately using the diagram below
2. Use your pet's measurements to select your crate using the chart below
For travel by air, we strongly recommend the following accessories:
Metal Crate Hardware - to strongly secure the crate
Crate Accessory Kits- if you need to upgrade a crate you already own (not necessary if you are ordering a new crate)
Crate Pet Pad - to make the crate more comfortable for your pet on a long trip
SIZE
IATA TYPE
CRATE
WEIGHT
DIMENSIONS
FITS PETS UP TO

Small

0
7.5 lbs
21"L by 16"W by 15"H
17" long by 12" wide by 13" tall

Medium

200
11.2 lbs
28"L by 20.5"W by 21.5"H
23" long by 16" wide by 19.5" tall

Intermediate

300
20 lbs
32"L by 21"W by 22"H
28" long by 16" wide by 20.5" tall

Large

400
29 lbs
36"L by 25"W by 27"H
32" long by 22" wide by 26" tall

Extra Large

500
39 lbs
40"L by 28"W by 30"H
36" long by 24" wide by 26" tall

Giant

700
43 lbs
48"L by 32"W by 35"H
43" long by 31" wide by 34" tall
Measure Your Pet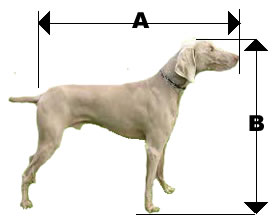 The length of your pet (A) must be taken from the tip of the nose to the base of the tail. The height of your pet (B) is from the top of the head to the ground. If your pet has ears that are erect (e.g. German Shepherd), you need to measure from tip of ears to ground (especially when entering the UK). Both measurements must be taken when your pet is standing erect.